O'Leary Auctions mission is to provide championship auction services to the agricultural, industrial and commercial industries that need the maximum value of their products and inventories realized in a rapid and efficient manner.
O'Leary Auctions, owned and operated by Bradley O'Leary, was founded on the principles of honesty, integrity, professionalism and superior customer service.
Founder Bradley O'Leary was born and raised in the dairy business in Wisconsin and then later in Canada.  He developed a strong work ethic as a young man in the dairy business and then later applied that work ethic in college by obtaining a degree in Agriculture Business.
With the help and encouragement of world renowned rodeo announcer, Bob Tallman, Bradley ventured into the auction business and attended the World Champion College of Auctioneering in the spring of 2001.  Seeing opportunities in Texas, Bradley brought his new found skill and passion for the auction business to Texas in the spring of 2005.
Today, Bradley brings his auction expertise to the sales arena of more than 300 auctions per year.  O'Leary Auctions will sell several million dollars worth of agriculture equipment, industrial equipment, purebred livestock and automobiles each year through the auction method of marketing.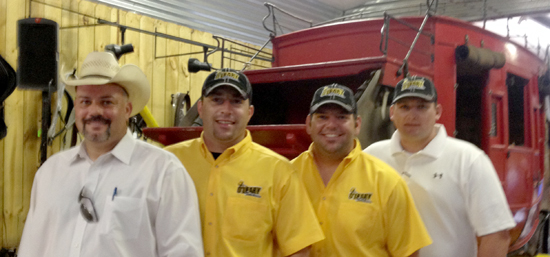 O'Leary Auctions
P.O. Box 276
Weatherford, TX 76086